Colwood Neighbourhood Overview
Colwood is a seaside community bordered by the town of View Royal and the district of Langford to the north and the west, and by the District of Metchosin to the south. With 7 kms of ocean shoreline the city boasts breathtaking views of Victoria and across the Pacific to the majestic Olympic Mountains. Colwood offers pastimes for everyone including, the Royal Colwood, Juan de Fuca and Olympic View golf courses, The West Shore Parks and Recreation Centre and the national historic sites at Hatley Castle, Fort Rodd Hill and Fisgard Lighthouse. The city is set in some of Vancouver Island's most spectacular parks and trails.
Colwood has great potential with anticipated growth and development in the heart of Colwood and along the waterfront at Royal Bay and Royal Beach. 500 acres along the oceanfront is set aside for a seaside village that will include  shopping, dining, and service businesses; all connected by walkways and trails. There is also a proposed passenger ferry that will run between Royal Bay and Ship Point in downtown Victoria every 30 minutes, which is set to transform this municipality.  The community plan has been created with a strong vision to maintain Colwood's natural beauty and cultural diversity.
Colwood was rated by Maclean's magazine as one of the 25 best communities to live in Canada. Many factors were considered, and the city ranked high based on economy, affordability, taxes, commute, weather, access to health care, amenities and culture. That's something to be proud of!
What we love:
Esquimalt Lagoon is a photographer's dream! You'll marvel at the ocean views out over the Juan de Fuca Straight to the Olympic Mountains, the long stretches of sandy beach, the famous driftwood sculptures that can be found along the beach and the  trails that take you through ancient forests and glimpses of Hatley Castle off in the distance.
You can't help but be a bird watcher here, it's a renowned sanctuary.
This is a unique waterfront with a channel at one end that connects the lagoon and the Pacific Ocean.
Don't forget to check out the nearby Fort Rod Hill and Fisgard Lighthouse!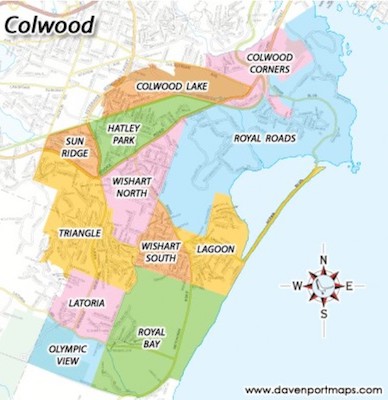 Low to Mid 40's with some errands accomplished on foot depending on your location in the municipality Prices range from $675,000 to $1,975,000
Average price: $1,086,065
Median days on market: 12
*2021 Sangster Elementary School
Colwood Elementary School
Dunsmuir Middle School
Royal Bay Secondary
Belmont Secondary
French Immersion K-8: École John Stubbs Memorial
Royal Roads University
Price range
condos from $259,900 to $989,000
townhomes from $485,000 to $1,260,000
Average price: condos $528,704 townhomes $1,260,000
Median days on market: condos 10 townhomes 7
*2021