Jubilee Neighbourhood Overview
South and North Jubilee are small neighbourhood areas bordered by Oak Bay Avenue on the south, Foul Bay Road on the east and Shelbourne Street to the west.  The name Jubilee was coined to describe several disparate residential enclaves around the Jubilee hospital which developed out of farms and private estates of the principal 19th-Century land owners—Pearse, Vye, Finnerty and Lee.
The housing is mainly single family, except along Fort Street and Richmond Road where a number of condominium buildings are located. The housing is mostly older homes including early 1900s character homes of more modest pricing.
The area is home to many health agencies and institutions, including the Jubilee Hospital, Canadian Cancer Association, and the Canadian National Institute for the Blind. The area is anchored by the Jubilee Hospital and the Fort and Foul Bay shopping plaza which features Save On Foods and a Signature BC Liquor Store with one of the best selections in Victoria.
What we love
The large number of city-owned "walk-throughs" and Spirit Garden, a small intensively planted linear garden, that was created mostly by volunteers.   The neighbourhood's location between key corridors means public transportation is a breeze.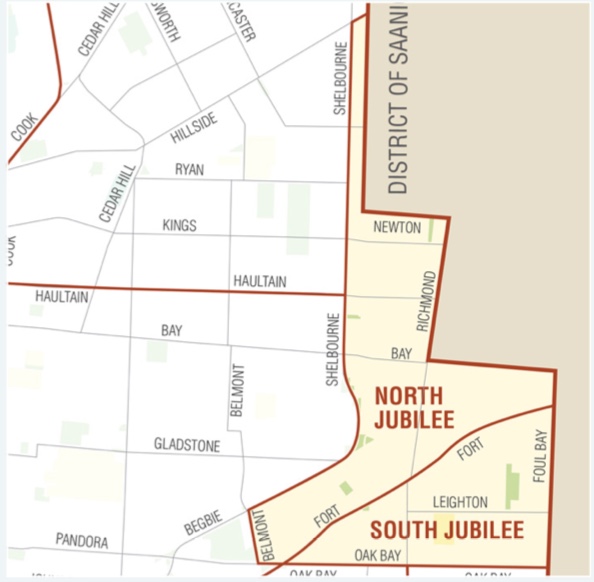 The mid 70's – with most errands accomplished on foot. As a bonus, it is also very flat making biking easy. Price range from 684,528 to $1,910,000
Average Price: $1,052,918
Median days on market: 9
*2022 St. Patrick's Elementary School
Victoria College of Art
Ecole Victor-Brodeur (Francophone school for K-Grade 3)
Prices range
condos from $260,000 to $630,000
townhomes from $550,000 to $775,000
Average price:  condos $439,732 townhomes $654,200
Median days on market: condos 13, townhomes 7
*2022