Maplewood Neighbourhood Overview
Maplewood is bordered by Saanich Road to the East, Maplewood and Blenkinsop Roads to the west, and between Tolmie Road to the north and Cedar Hill Cross Road to the south.
Located in the municipality of Sanich East, Maplewood is a favoured neighbourhood for young families. As it allows you to be within a short commute to downtown Victoria but in an area where you get bigger bang for your real estate dollars.
The neighbourhood is mostly made up mostly of single family homes, although there are a few apartment buildings and townhomes, mainly along the busier arteries. The bulk of the houses were built in the '40s and '50s, with a fair number built in the 60s and 70s and a small number of houses built in the last 10 or so years, which have replaced the original homes.
Maplewood homes tend to have larger lots and as the topography of the area  has many trees, hills, and rocky outcroppings – it is not uncommon to find homes that offer privacy along with vistas towards the Sooke Hills.
What We Love
Playfair Park – at nearly 4 Hectares with trails and playground equipment for the kids, this Maplewood gem puts should be on your 'must visit' list in May for its showy display of azalea and rhododendrons.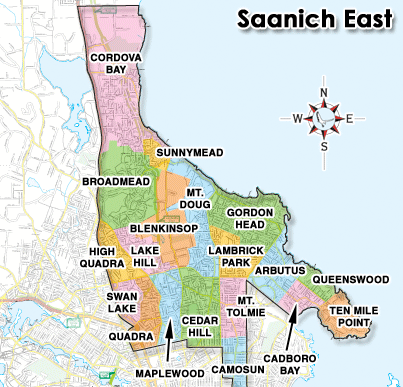 Low to Mid 40's with some errands accomplished on foot Prices range from $660,000 to $1,900,000
Average price: $1,055,179
Median days on market: 8
*2021 Cloverdale Traditional Elementary
Quadra Elementary School
Reynolds Secondary School
Price range
condos from $285,000 to $550,000
townhomes from $610,000 to $1,126,000
Average price: condos $386,571 townhomes $777,250
Median days on market: condos 15 townhomes 7
*2021