High Quadra & Swan Lake Neighbourhood Overview
The North Quadra Swan Lake neighbourhood is bounded by McKenzie Avenue to the north and south, Patricia Bay Highway on the west, Broadmead on the north, and Blenkinsop Valley on the east. The most prominent feature is Christmas Hill in the centre. The location is composed primarily of single-family dwellings. The area offers southwest view properties and parkland making it very popular with families and those who live active lifestyles.
The landscape of High Quadra Swan Lake is unique for its ecological diversity and recreation potential. Corridor connections to the Lochside & Galloping Goose trial systems provide year round recreation and valuable commute options. The Swan Lake Christmas Hill Nature Sanctuary sets an oasis-like setting for residents here. It's comprised of two distinct areas: the low wetlands surrounding Swan Lake south of Mackenzie Ave, and the rocky oak-forested hilltop of Christmas Hill, north of Mackenzie Ave.
The central location of this neighbourhood provides stress free access to shopping and services in nearby Broadmead. It couldn't be easier running to catch a plane at the International Airport or getting out in Downtown Victoria all within 15 minutes.
What We Love
Did you know that Saanich has more parks per capita than any other municipality in BC? You could spend the day at Beckwith Park in High Quadra. This community park has over 9 hectares of parkland and facilities that include tennis courts, a water park and accessible playground, trails around Beckwith Pond, soccer pitch, basketball pads and picnic spots.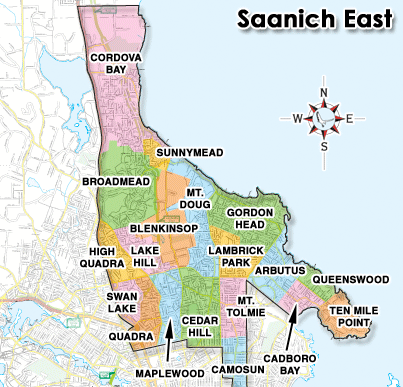 Low to Mid 40's with some errands accomplished on foot Prices range from $730,000. To $1,799,000
Average price: $1,128,817
Median days on market: 6
*2021 Rogers Elementary
Reynolds Secondary
Price range
condos from $320,000. To $999,900
townhomes from $565,000 to $1,151,000
Average price: condos $518,000 townhomes $802,980
Median days on market: condos 13 townhomes 9
*2021