Oak Bay Neighbourhood Overview
Bordered by Rockland to west, Saanich to the north, and the Ocean to the south and east, Oak Bay is one of the most desirable neighbourhoods for families in part because of its schools –  the recently renovated Oak Bay High School as well as two renowned private schools – St. Michaels University School and Glenlyon Norfolk Junior School. And the University of Victoria and Camosun College are both located on the border of Oak Bay and the neighbouring municipality of Saanich.
Adding to Oak Bay's appeal are two Marinas – the Oak Bay Marina and the Royal Victoria Yacht Club, Willows Beach – one of the best swimming beaches in the Victoria area, and two golf courses; Uplands and the Victoria Golf Club – the latter being the oldest golf course in Canada and second oldest in North America.
Oak Bay Village is considered the hub of this municipality and is lined with boutiques, galleries, restaurants, coffee shops as well as all of the must haves, including:  a library, community centre, grocery stores, pharmacy, butcher and baker.
Homes in Oak Bay tend to be among the priciest in Greater Victoria.
(see also Uplands)
What We Love
Oak Bay's proximity to the water and its community spirit make it an ideal location for people who want a small town feel combined with the amenities of a city. We also love the clusters of condos and townhomes that line Beach Drive – creating an ideal location for empty nesters looking to downsize in a setting that feels like you are on vacation.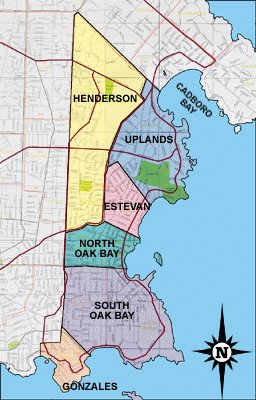 Very walkable with a walk score range from the low 60's to the high 80's depending on your proximity to the Oak Bay or Estevan Village Price range from $860,000 to $8,700,000
Average price: $1,959,610
Median days on market: 9
*2021 Willows Elementary
Monterey Middle School
Oak Bay High School
Glenlyon Norfolk School (private)
St. Michaels University School (private)
Price range
condos from $279,500 to $1,710,000
townhomes from $630,000 to $2,275,000
Average price: condos $775,000 townhomes $1,480,000
Median days on market: condos 20 townhomes 41
*2021
From zoning and building permits, to bylaws and compehensive information on neighbourhood parks, recreation and cultural events. The city of Oak Bay's website is a great resource for residents.
Check Oak Bay Zoning Bylaws that may affect what you can do to a property or house in the Oak Bay neighbourhoods
See what municipal information is available on a specific property in Oak Bay through Oak Bay GIS Maps